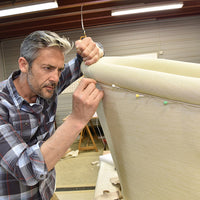 The Best Upholstery Foam Sheets
For those looking to upholster furniture the right way, we deliver exceptional quality upholstery foam sheets directly to your door. We offer an extensive range of superior foam types to choose from. No matter the upholstery task at hand, we can help provide you with the foam sheets needed to perfect any job.
With over fifteen different foam types to choose from, we're certain that you'll find exactly what it is you need with us. See for yourself our entire range of products. With next working day delivery available on qualifying orders, you'll be upholstering to the highest standard in no time at all.
Our products are made to the very highest specifications. Take a look at our range of foam below.
Buy Foam Sheets
Buy Upholstery Foam Sheets
Upholstery Testimonials
I've been buying from UFS for quite some time now, since switching from my old supplier. I've had only good experiences and couldn't recommend them more highly.

Matthew Harrison
We have recommended you to all the students on our traditional upholstery course as your prices are fantastic.

Billy O'Neill
Great quality foam, delivered super quick. Already recommended to other upholsterer friends.

Gwen Jones
I'm really starting to notice the benefits since making Upholstery Foam Sheets my main supplier. Fantastic quality products at a fair price, I couldn't ask for more.

John Stevens
We now buy all our furniture foam from you guys. Arrives next day to our studio in London and our customers are happy with the end results.

Mark Gibson
Used to use TW Foam Converters but switched to Upholstery Foam Sheets when they went into liquidation. So much quicker and cheaper too.

Alexander Holland
I love how they deliver next day so I don't need to stock as much foam in my studio anymore.

Claire Anderson
It's like dropshipping for upholsterers! I can just order in the foam when I get the order from my customer.

Charles Parker
Upgrading furniture foam for clients was easy using Upholstery Foam Sheets. Been using them for months now.

Frank Mottershaw
A Guide to Upholstery Foam Sheets
What Can A Foam Sheet Be Used For?
Foam Sheets have a variety of uses from upgrading your furniture foam to protecting items of high value or importance.
Many of our customers are professional upholsterers. Our service allows them to source the materials they need in a fast and cost-effective manner. The products we offer are reguarly used as a means to replace furniture foam.
We also have many customers from the retail industry who trust our foam to protect their goods in transit.
And that's not all! We've recently added a line of specialist acoustic fire-retardant foam. Fireseal Class 0 has the highest possible fire resistance rating of any other acoustic foam. Due to its high mass, Fireseal greatly dampens excess soundwaves from low to high frequencies. It is ideal for use in large-scale air conditioning and for lining ducting. Fireseal foam has uses within a range of industries including heating and ventilation, original equipment manufacturing, marine acoustics and in construction.
Why Customers Choose Us
All our products are manufactured to ISO 9001 standards in Great Britain and our foam exceeds UK Fire Safety Regulations. We pride ourselves on the quality of our products. Our materials are rigorously tested by independent bodies to ensure that they meet customer expectations.
With a next day delivery service available, we are one of the fastest online foam retailers in the UK. Traditional foam suppliers can take upwards of a week to deliver your goods. In some instances, we take less than 24 hours.
Variety to Suit Your Needs
We're changing the way you buy foam! Convenience lays at the heart of what we do. We want our customers to buy the foam they want and receive it when needed.
Our sheets come in a range of thicknesses from a quarter inch all the way up to 4 inches. With 16 different types of foam to choose from you'll find the materials you require here, no matter the task at hand.
If you require sofa foam cut to size try our foam direct website.
Where We Deliver
We deliver throughout the UK and can also arrange delivery to Europe under certain circumstances. If you are ordering from outside of the UK, please contact us to discuss your order prior to purchase.
Our delivery system is broken up into 4 different zones and delivery times may differ depending on where you live in the UK. Zone 1 covers England, Wales, and the Scottish Lowlands. Zone 2, the Scottish Highlands. 3 includes both Southern and Northern Ireland, whilst Zone 4 covers the British Isles. If you want to read more about this service, please visit our delivery page.