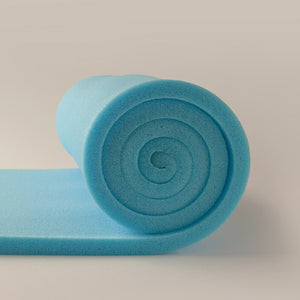 Average (High Density) Hard Foam Sheet 33H (V33H – RX33/190)
Regular price £36.98 Sale
Average (High Density) Hard Foam Sheets are perfect for use in upholstering high-quality pieces of furniture. They can also be used in part for seating and mattresses within caravans, boats, yachts, camper vans and more.
High density foam has a remarkably compact cellular structure. This is what gives it high density properties. It is designed to be more responsive and springy when pressure is applied in comparison to regular foam types.
Try our luxury range of high density foam sheets for an even more effective product. Our luxury range of foam is the finest available for purchase. For projects that require you to go the extra mile, a luxury foam is the best choice.
Average (High Density) Hard Foam Sheet V33H – RX33/190 Specifications:
Hard feel foam
Colour - Blue
Density – 33 (Kg/m3)
ILD 40% Newton(3) (Indentation Load Deflection) - 190
Fire Behaviour – Crib V