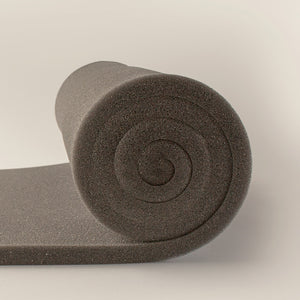 Acoustic Foam Sheet 25A (VE25 130 / KCME25DK – RX25/140)
Regular price £37.98 Sale
Our acoustic foam sheets are of a medium density. For places that require noise insulation, our acoustic foam sheets are ideal. This is particularly useful within recording studios and areas that generate high levels of noise. Our acoustic foam sheets are highly fire resistant and exceed UK fire safety regulations (UL94 approved). This helps to ensure the safety of any expensive equipment located in the vicinity of our acoustic sheets. Most importantly this ensures the safety of you and others around you.
When purchasing acoustic sheets, it's important to ensure that you are purchasing fire resistant foam. This is because many insurance policies will become void if it is decided that the correct type of acoustic foam sheets have not been implemented. This type of foam is most suitable for sound insulation purposes. It can also be used as a protective packing material.
How Acoustic Sheets Work
Acoustic sheets are known for their sound absorption abilities. When mounted to walls and ceilings, it works as a softened barrier which prevents sound from ricocheting. This helps to prevent things such as flutter echoes, reverberation, standing waves and more. Acoustic sheets also work to reduce the amount of noise coming into or being output from a room. Although not a fully soundproof foam, acoustic sheets have an exceptional ability to absorb sound wave energy.      
Acoustic Foam Sheet VE25 130 / KCME25DK – RX25/140 Specifications:
Hard feel foam
Colour - Grey
Density - 25 (Kg/m3)
ILD 40% Newton(3) (Indentation Load Deflection) - 140
Fire Behaviour - Crib V, UL94-HF-1